Did you know it has been said that trees can add so much to a home's value?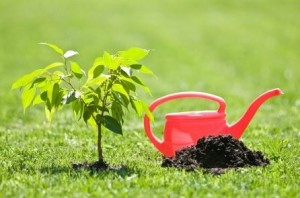 If you're thinking of planting a tree or a series of trees in your yard this year, when's the best time of the year to plant trees? Basically, the best time is when it's not too hot or too cold and they'll get plenty of water. In other words, you wouldn't want to plant them in the middle of the summer during a drought season.
Planting Trees for Success
In much of the U.S., the ideal time for tree planting is late summer/early autumn. In the wintertime, roots typically stay active, as the tree acclimatizes to the soil it's in. Springtime comes around and you're likely to notice bursts of leaves and/or flowers coming from your fairly new tree!
The country is divided into several zones to make up a "hardiness zone" map. It's the standard by which gardeners and growers determine which plants are most likely to thrive in certain locations. New Jersey is in zones 6 and 7, indicating that the last frost of winter is usually in mid-April, while the first frost comes around in mid-October. Ideally, you'd want to plant trees, then, in May or in late August.
Already Growing Trees
If you're buying trees that have already been growing in a container, whereas their roots are covered with soil, they've already established themselves. Therefore, plant these trees in spring or fall to give them a couple of months before the ground gets really hot or really cold.
As for deciduous trees- the ones with leaves- plant them in early autumn, and keep them well-watered during the winter. Evergreens can be planted in early autumn, as well, or in late spring. Keep in mind that evergreens don't do well in extreme heat.
If you wish to transplant a tree, moving it from one location to another on your property, do so after the ground has warmed up in the springtime or else right after leaves have fallen– so the month of October works well (before the ground freezes). Basically, the best time to plant trees is when the weather isn't involved in extremes.
At Big Foot Tree Service, we specialize in tree removal and other landscaping services. If you're looking to replace a dead or dying tree, we can help you out. Contact Big Foot Tree Service at 973-885-8000 today or visit us online for more information!