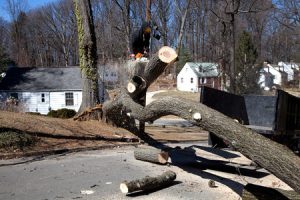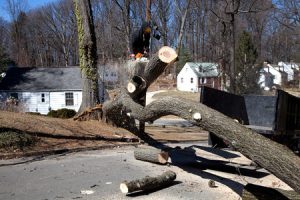 Whipping winter winds, ice storms and other weather events can make trees fall down unexpectedly. Here's a good question: what happens if a tree falls down? Who is responsible for it?
When a Tree Falls on Your Property
If the tree falls down in your yard you are responsible for it, whether it started on your property or not. Even though it's your neighbor's tree, if it has fallen down on your property, it's now your headache. You can opt to have a service like Big Foot Tree Service come cut it up and haul it away, or you could conceivably leave it there "as is." Now if the tree is in a section of the yard that's "remote" you might just want to leave it there, but if it's "front and center" in full view of the public and passersby, it makes sense to have it removed. You should check with your homeowner's insurance to see if it'll cover a portion of the tree's removal/replacement– or all of it. If that tree ended up damaging your home, ask your insurance company to deal with your neighbor's insurance company to get some compensation to make home repairs. Your own homeowner's insurance might also cover damage to property inside your house that got damaged by your neighbor's fallen tree.
How about if a tree has fallen into the street? If so, the local municipality or state is responsible for it. States are responsible for state roads. Counties are responsible for county roads. What's more, towns are responsible for town roads. Basically, your local government can be called to report the fallen tree and they'll have to deal with it.
If a fallen tree is touching power lines, you should call your electric company. They'll de-energize the line(s), untangle the mess, and then restore power. Meanwhile, the local municipality will cut and remove the tree(s) as needed.
Are you concerned about a fallen tree in your yard? If so, please call Big Foot Tree Service for advice to figure out what to do about it. Please call 973-885-8000. Our tree company services several municipalities in New Jersey, including Butler, Caldwell, Fairfield, Franklin Lakes, Kinnelon, Montville, Oakland, Pompton Lakes, Pompton Plains, and Wanaque.