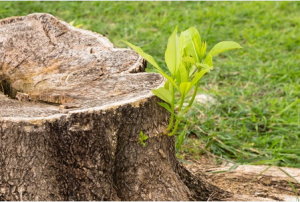 Oftentimes you'll have that one tree or bush in the yard that annoys you. So, you cut it down as best as you can, to the bottom leaving just a stump. You think you've conquered it. However, stumps can and do "grow back." Yikes!
It's NOT common for evergreen coniferous shrubs and trees to grow back, but for deciduous species? It is common.
Stumps can sprout because their root systems have stored energy– enough to get the plant regenerating. It's a natural process and explains how a forest destroyed by fire eventually come back to life over many years. Sometimes too many sprouts pop up, to the point where a multi-trunked tree starts growing. Since the root crown gets bigger annually, if the tree isn't managed, its stump can become quite difficult to remove.
If you're able to physically remove new growth from a stump as soon as it appears, that can exhaust the root system and help the plant die. Tiny tree or shrub stumps can be removed with a shovel and pickaxe. Larger ones require a backhoe and/or stump grinder. That's when you call Big Foot Tree Service to do the job.
Serving homeowners throughout Passaic County, Bergen County and surrounding areas, Big Foot Tree Service can expertly remove one or more stumps from your yard using professional tools and equipment. Also, the workers take care not to damage your surrounding yard. In addition, Big Foot Tree Service can handle tree cutting and storm damage clean up.
Stumps can get in the way of people. They can become unsightly. Pests, critters, and bugs can make their home in old stumps, and when they're too close to your house, they're too close for comfort. Should you want stumps removed, call Big Foot Tree Service of Wayne, New Jersey, at 973-885-8000 for prompt service.