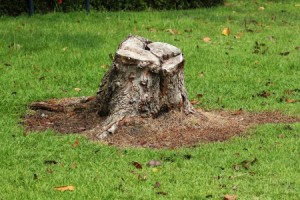 We live in a society where we're constantly bombarded with ads offering products to make our skin look blemish free. After all, no one really wants a giant pimple on their nose, right?
Tree stumps are like pimples on your property. Yes, they can be there and it's not the end of the world, but if they're removed, it looks better, for certain.
If you're the kind of person who gets bothered with things that are out of place or "just don't look right," then you're probably the kind of person who immediately has a tree stump removed from your yard, for fear of the neighbors thinking, "How could they leave that ugly thing there?"
While most people aren't as extreme in their inner need to rid their lawn of tree stumps, there are a couple other reasons to get rid of them besides aesthetics.
If you have children running around, do you want them to trip over the stump? No. If you have to cut your grass, do you want to have the stump awkwardly in the way every single time you're trying to get the job done? No. Do you want an insect-attracting stump taking up precious space in your small yard? No.
Tree stumps can also lead to problems such as "suckering" where new shoots arise from the trunk and roots, and if the stump is completely dead, root diseases like honey fungus can occur. Uh, no thank you.
Big Foot Tree Service eliminates stumps in New Jersey. If there's a stump in Passaic County, Bergen County, or the surrounding areas, and it's on your property and you want it gone, Big Foot can get rid of it!
Posted by: Big Foot Tree Service