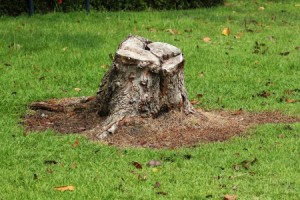 Tree stumps in our yards can become real eyesores that we want to be removed as soon as possible. You could go out and try to remove it yourself but that can become very time-consuming, especially if you don't know what you're doing. That's why you are better off hiring a professional to remove that unsightly tree stump.
Trying to remove a tree stump on your own may seem like a good idea; however, if you don't know anything about it, you would have to educate yourself on how to properly remove it. On top of that, you would have to go and purchase numerous pieces of equipment to get the stump out of the ground. All of this combines into what could end up being a huge waste of time and money if your work isn't successful.
If you were to hire a professional to remove the tree stump, it would be a one-time fee and would mostly likely be done in a timely manner. They would come equipped with the tools and machinery to get the job done, keeping you from wasting money on unneeded tools.
Along with all of that, they are experts and have tons of experience removing stumps. The amount of time that it would take for them to remove it would be small compared to how much of your time you might take up learning how to do it. All the extra time you would gain from the professional stump removal could be spent on other home improvement projects or going out and enjoying yourself somewhere.
If there's a stump or tree in your yard you want removed, Big Foot Tree Service has got you covered. We offer our tree cutting services to residential properties throughout the Northern New Jersey area and will make sure that unsightly tree or stump gets removed for good. For more information on our services, feel free to call us today at 973-885-8000!