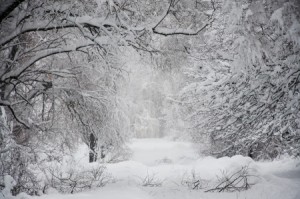 Winter storms bring with them snow, sleet and ice, as well as freezing cold temperatures and often brutal winds. If you hear that a winter storm is headed your way, there are several things to do in order to prepare for the event.
First, check your vehicle to make sure you have things like a small shovel, ice scraper, blanket, flashlight and other items you'd need in case you got stuck in a snowstorm while on the road.
Next, make sure your home has the necessary items needed in case the power goes out for an extended period of time. Things such as candles, battery-operated radios, and extra warm blankets should be readily accessible.
If you have pets or animals, bring them inside (under shelter) before and during the storm so they don't freeze to death. Don't forget to give them food and non-frozen water.
As for your home, before a storm hits you should clean out the gutters, apply weather-stripping to doors and windows, and ensure that all fuel-burning equipment is vented to the outside and kept clear– if your home is sealed so tightly that no air is getting in or out, there's the possibility of dying from carbon monoxide poisoning. In other words, run your grill or generator outside so the fumes don't hurt you.
Finally, winter storms can mean you're stuck inside for days, so before a storm hits, fill your kitchen shelves with comfort food (chocolate/chips), drinks (beer/milk) and medications to ride out the storm until you can get to the grocery store again.
After a winter storm, if the harsh weather has damaged trees in your yard, call Big Foot Tree Service in Wayne, NJ at 973-885-8000 to come take care of the problem(s).