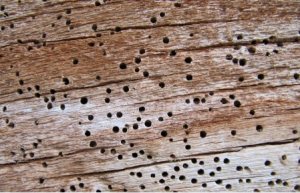 Nobody wants termites and other insects infesting their home or the surrounding yard. If you have dead trees or plants on your property, it's important to have them removed by a professional like Big Foot Tree Service. Termites thrive on and are attracted to dead trees.
Termites have mouths that tear at pieces of woody material. They're hungry buggers, known as the "silent destroyers" who can cause a lot of costly damage to people's homes and property. Termites look different than carpenter ants– they have no "waist," but, rather, a rather rectangular body without any constriction. With straight, beaded antennae and four wings of equal size and shape, termites are the kind of bugs that you don't want to see in your vicinity.
What can you do to deter termites from your place? First, do your best to eliminate areas where moisture gathers, such as near leaky pipes and AC units. Next, keep house vents clear and open. Finally, get rid of excessive plant cover and wood mulch close to your home.
If you have firewood, lumber or even paper in or near your home, these things attract termites since they're food sources. Should you notice mud tubes on your home's exterior walls, wooden beams, and/or stumps, those could indicate termites. If you tap a piece of wood and it sounds hollow, chances are termites have already enjoyed many dinners there.
Basically, if there's wet, decaying wood anywhere in or near your home, termites will do their best to establish a colony there. A stump, for instance, becomes an easy nesting area for various termites.
Big Foot Tree Service can remove stumps and the root crown of felled trees. If needed, the area can be chemically treated by a licensed pest control operator, too.
Do you have an unattractive, termite-inviting stump in your yard? Whether it's just one, or several, the team at Big Foot Tree Service can remove stumps with care and respect for your property. Located in Wayne, New Jersey, you can schedule an appointment with Big Foot Tree Service by calling 973-885-8000. Big Foot Tree Service serves homeowners throughout Passaic and Bergen Counties.