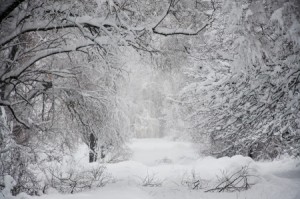 Winter weather is tough. One day it can be chilly, but clear and sunny, and later in the week, the weather can drastically turn and a major winter weather storm could bust through, and shred anything in its path. Even worse, a dreaded polar vortex could arrive any day, and cause a bit of disarray.
Winter storms can especially be a pain. Sure, having to shovel or plow your driveway and walkway can be a major inconvenience, but what makes owners even more fearful is the threat of property damage.
As homeowners, there are many things we can control to protect our investment; however, Mother Nature is not one of them. From frozen pipes that burst to tree limbs that were steamrolled into abyss by strong gusts of wind, your property is always at risk during a tough winter storm, and may leave you with a giant mess to clean up.
Should your property fall victim to a severe winter storm and you're left with fallen branches, limbs, trunks and other debris, Big Foot Tree Service is here to help. Regardless of the time, day and month, we provide storm damage tree removal services and will clean up fallen branches and limbs. What's more, should the storm cripple one of your trees and put it at risk to fall over, we will come and remove it for you, whenever you need us.
Let's hope we won't have to worry about severe winter storms and polar vortexes this year; but if we do and your property is covered with tree limbs, remember to contact Big Foot Tree Service.