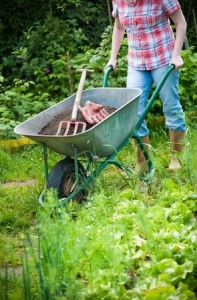 As usual, many people's lawns and yards look a little worse for wear because winter is, in general, a rough season. As spring comes along, it's time to start thinking about getting out of the house and tending to your lawn to make it look nice.
When the weather is sunny and warm, spend a day or two doing some things to get your lawn in order. For instance, rake up dead leaves and pick up sticks from the ground. This is great exercise to help you strengthen your core, by the way– or you could pay kids a couple bucks to go around and pick stuff up for you! Whether it's you or someone you know, cleaning up the lawn involves picking up storm debris, trash, branches, and "snow mold," which involves brown, matted-down, and "dead looking" patches on the lawn. All this stuff should be thrown out, put into trash cans, and carted off by the local trash man.
Oftentimes, plows end up pushing snow onto the lawn, leaving piles of dirt in odd places, above the ground. Therefore, take these piles and put them back into the holes from where they came. Indeed, anywhere you find uneven ground, get your shovel out, find a place with excess dirt, and use that to fill in holes/low spots on your lawn.
If you have flower beds, spring's the right time to rake them clean and then lay down mulch in preparation for planting season.
Do some research online and talk to friends in order to find out what kind of plants/shrubs you might consider adding to the lawn this year. You'll want to take into account the New Jersey climate, as well as things like the amount of sunlight a certain spot gets or if it's in range of your hose for proper watering.
Should you need any trees trimmed or removed from your yard to help make it look better this time of year, contact Big Foot Tree Service today.