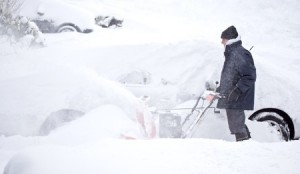 Did you ever think you would see a day where a snowstorm brought things to a halt in New York City, aka the city that never sleeps?
Of course, New York City is not the only area that the Blizzard of 2015 has impacted. In fact, our area has also been hit hard by the snow, which can cause a litany of problems, especially when it's coupled with wind.
Let's look at a few suggestions that will help you endure the miserable Blizzard of 2015.
Avoid the roads unless it's an emergency. Few things are scarier than driving in blizzard, especially when strong wind gust emerge, and force "whiteout" conditions. Put simply, unless it's an emergency, it's not worth risking your and other motorist's safety. Not to mention, you need to stay off the roads so that the snowplows can do their job.
Be careful shoveling snow. Yes, of course you're eventually going to have to clear your driveway and/or walkway. That said, be careful when choosing to do so, especially if you have a history of heart issues. According to the Washington Post, "Shoveling lots of wet, heavy snow presents a real risk of heart attack if you're not in shape to do it. And musculoskeletal injuries are even more common." Don't risk serious injury or worse just to clear the driveway…for more snow to pile up.
If you have to brave the outdoors, dress as warmly as possible. That includes a winter hat, gloves, scarf, jacket and boots. If, for whatever reason you do have to go somewhere in your vehicle, be sure to pack a blanket or two and an extra set of winter supplies.
There is always the possibility that heavy snow and wind can cause limbs and branches on your property to pre-maturely fall. If that happens to you, be sure to contact Big Foot Tree Service. We provide 24-hour emergency storm cleanup and will get your property back looking as it should in no time.