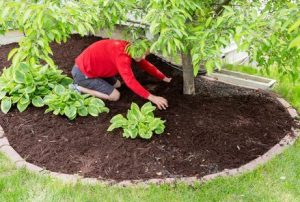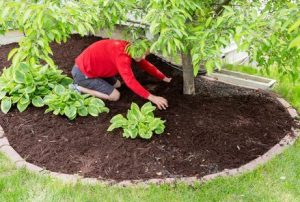 It's that time of year, again… time to mulch around trees. Oftentimes, you see landscaping companies dumping foot-tall mounds of mulch around trees– well that's not good, because it suffocates the tree(s). Ideally, a 2"-to-3" layer of mulch works best. It should extend far enough to reach out to a tree's "drip line," which is defined as the area where the outermost circumference of a tree canopy drips water from and onto the ground.
The Advantages of Mulching in the Spring
Why add mulch each Spring? Mulch not only gives your landscaping a more "finished" look, but it also helps prevent weeds at the base of the tree, while helping maintain consistent soil temperatures and retaining moisture there. Meanwhile, mulch also acts as a good buffer between the base of a tree and things like weed wackers and mowers.
If you have old mulch from last year or years prior, it tends to get matted, which can prevent air and water from getting to the tree's root system as needed. Therefore, take a rake and break it up/spread it out.
Getting the Mulch
For those of you who want to buy "new" mulch this year, shredded bark or wood is the most common landscape mulch. While it's cheap and easy to apply, it doesn't add as many nutrients to the soil as other mulch materials do. Did you know it's fine to include grass clippings in your mulch? Grass adds nutrients! Ideally, use sun-dried clippings as mulch, avoiding grass that has been treated with chemicals and/or pest controls. Besides grass clippings, other nutrient-rich, organic mulch options include leaves that have been aged at least nine months, as well as straw, compost, pine needles and even cardboard/newspapers. Should you want to go the inorganic mulch route, some of those materials include plastic, polyester garden fabrics, stone, and carpet remnants.
Finally, what are the best two times each year to mulch? First, you want to mulch in the spring after the ground has thawed. Then, later on during the year, apply another two inches of mulch in the fall, after the ground has frozen. Mulch helps insulate and protect trees (and plants) year-round.
If you need help with the trees on your property, contact Big Foot Tree Service today.