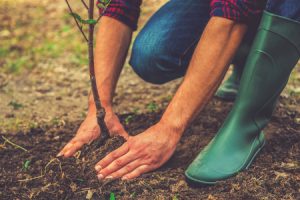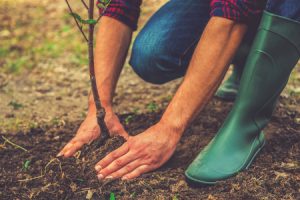 Are you thinking of planting a tree in your yard? If yes, how can storms affect it?
Research
When buying and then planting trees it's a good idea to do some research first. Read about different tree species to get a general idea of how much sun they need, what type of soil suits them best, and how large they'll end up growing in the long run. Try and choose trees that are well-suited to your site and its weather conditions, year-round.
Stable Structures
Look for trees that have sound structures– you want strong trees that can stand up to storms. If they look like they won't bend in the wind, buy them! You'll also want to invest in trees that have a balanced overall structure– rather than, say "top heavy" ones that could easily bend, break or fall should a storm hit your yard.
Stay Away From Power Lines
If there's one great piece of advice on planting trees, it's this: don't plant them near power lines! By avoiding power line areas, you're going to save yourself trouble later on… after all, what happens when wind, sleet, rain, snow and ice whip through your neighborhood? Tree branches fall on power lines and problems ensue. If you have to plant near utility lines, try and dig the hole at least 50 feet from any lines.
Stick to a Pruning Schedule
In order to help a young tree develop a sound structure as it grows, it's important to prune the tree during its formative years. For example, say you planted a tree in November 2019… in one year, start pruning it. Make cuts to favor a central leader. Get rid of branches reaching the trunk at acute angles. Prune every year until the tree's too tall to reach with your feet on the ground. This helps shape the tree and make it stronger for the times storms come.
Expert Tree Advice
Finally, if and when storms wreak havoc on your yard's trees, whether young or old, and you need some expert advice, or help removing branches/dead trees, please call Big Foot Tree Service at 973-885-8000. Big Tree serves New Jersey, including Butler, Caldwell, Fairfield, Oakland and Pompton Lakes. "We work hard to get the job done the right way the first time."