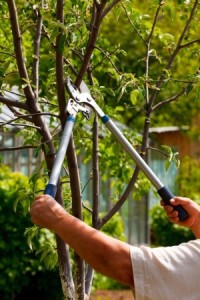 Before winter, there are some fall landscaping tasks you or a professional can do to prepare your yard for the cold season and next spring.
Fall landscaping typically involves raking tree leaves onto a plastic tarp and then making a mulch pile and/or disposing of the leaves in the garbage if that's possible where you live. Many people are outside in October and November raking their leaves. It's also time to weed out the garden and remove overgrowth.
Fall is prime time to start a new lawn and/or overseed your lawn in preparation for the future. You can also plant bulbs in the ground that will eventually bloom next Spring. Speaking of planting, why not plant some shrubs or trees? They'll establish roots in the season's cool, moist soil. As for the plant life already in your yard, Fall is the time to remove spent stems, cracked/loose/diseased limbs, and dead branches, leaving the wounds exposed to heal. Big Foot Tree Service can come plant new trees and/or remove dead ones.
Finally, sometime in September, October or November, depending on the weather, you'll have your last grass cutting of the season before the ground temperature gets to be 40 degrees or lower and grass stops actively growing. Ideally, trim your grass down to about one and a half inches for your last cut of the season.
For tree trimming, stump removal and other landscaping services in Northern New Jersey, call Big Foot Tree Service today at 973-885-8000 and ask for a free estimate.